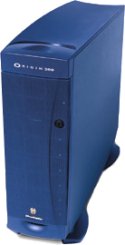 ---
Prices listed are in $US Funds. Prices subject to change without prior notice. All items subject to prior sale.

Due to the extensive numbers of products available, this list is just a partial list of what we carry. Our Inventory is constantly changing in content and pricing.

Please drop us an email at info@bbsolutions.com or use our ONLINE QUOTE FORM for more information or to find out updated pricing and availability of the specific SGI, SUN, CISCO configuration that you require.
---
Origin 200 Rackmount
2x225mhz R10000, 128mb Memory, 9gb Disk, Irix 6.5 installed
$CALL or Quote
Origin 200
2x180mhz R10000, 128mb Memory, 9gb Disk, Irix 6.5 installed
$CALL or Quote

013-1937-103
Single 180mhz 1mb
013-1938-103
Dual 180mhz 1mb
013-2176-002
Single 180mhz 2mb
013-2176-003
Single 180mhz 2mb
013-2177-002
Dual 180mhz 2mb
013-2177-003
Dual 180mhz 2mb
013-2382-002/013-2383-002
Single 225mhz
013-2384-002
Dual 225mhz
013-2512-001
Single 270
013-2513-001
Dual 270
060-0029-001
Power Supply for Origin 200
030-1024-003
SCSI BACKPLANE O200
030-1025-002
Origin200 Motherboard
030-0927-004
XTALK Fibre Channel O2K
030-0948-003
O2K ATM-OC3
030-1155-002
PCI IOC3 (PCI ENET)
030-1243-001
MSCSI B
030-1264-001
XBOX EXTENSION BOARD (Gigachannel Card Option)
013-1372-002
64mb Kit (2 x 32mb)
013-1492-001
256mb Kit (2 x 128mb)
Email us or use the quick quote form below for your Disk & Memory needs.
---

---
Please fill out this form as completely as possible or call 450-667-8778 for more information.
---
Premiere independent provider and integrator of refurbished Silicon Graphics Workstations and other computing/graphic solutions.
---
Home | SGI | Sun Microsystems | Cisco | Compaq | About Us | Maintenance Support | Hardware Training
Sell your Hardware | Consignment Program | Services/Support | Quote Form | Super Specials! | Contact Us


1690 Place de Lierre, Laval, Quebec, H7G 4X7
Tel: 213-283-9420
E-mail: info@bbsolutions.com
© B&B Solutions Inc.
B&B Solutions Inc. is an independent dealer & integrator and has no affiliation with Silicon Graphics, or any other manufacturer unless stated otherwise. All trademarks, logos, product names & pictures mentioned or displayed herein are the property of their respective holders. The B&B Solutions name and logo are trademarks of B&B Solutions Inc.